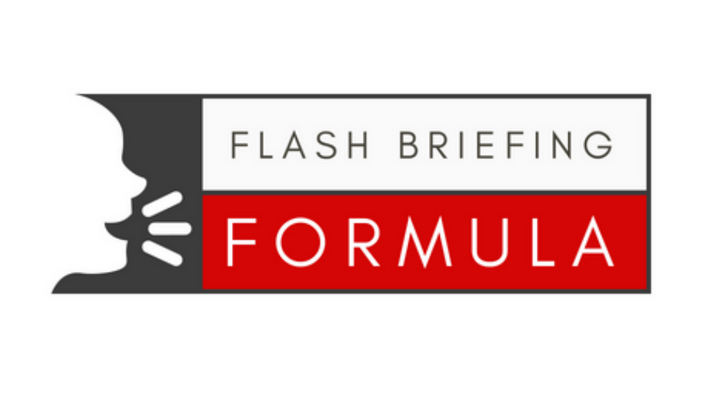 Flash Briefing Formula
Your Step-By-Step Course to Launch a Successful Flash Briefing that Gets Found and Grows Your Brand. Yours for FREE!
Watch Promo

LEARN THE FLASH BRIEFING FORMULA
WITH TERI FISHER

So you know that voice technology is the next big thing! And you also know that the world is heading towards short-form audio content. What do you get when you combine those together?
A Flash Briefing!
Ever wish you could go back in time and be one of the first people to snap up some prime real estate for a fraction of what it costs today? Now is the opportunity to do just that… but in voice! A flash briefing is one of the best ways to build an audience, grow your business, promote your non-profit, or share your passion. And with only a few thousand out there today, the land grab for the first-to-market briefcasts is on! Unfortunately, the process for getting started can often feel daunting. Common questions you might be asking yourself include: What equipment and software should I use? What should I talk about? How do I get my briefcast loaded into Amazon Alexa? How do I get it into other countries? And even after my show goes live, how do I make sure people find it?
Flash Briefing Formula was designed to address those questions, and much, much more!
In Flash Briefing Formula, I'll walk you step-by-step through the entire process of launching a great flash briefing. With high-quality, to-the-point videos, worksheets, and screen capture videos that show you EXACTLY what to do, you'll have your new flash briefing up and running in no time, so you can become a flash briefing real estate tycoon!

Now is the time to take advantage of this opportunity.

HI, I'M TERI FISHER
I AM THE HOST OF "VOICE IN CANADA", THE TOP RATED FLASH BRIEFING IN CANADA. HERE'S HOW I CAN HELP YOU.
I've been producing my flash briefing ever since Amazon Alexa first arrived in Canada. And I am very humbled to say that my Flash Briefing, "Voice In Canada", has been the #1 rated flash briefing and news skill in the entire Amazon Alexa Skills store in Canada right from the start.
Throughout the process of creating, launching, and marketing this flash briefing, I've learned a lot about what works and what doesn't, and what makes a top-notch Flash Briefing!
But in the process, I've also heard from many community members that they would like to start their own flash briefing, but that they need more than just technical help. Sure, they may need help with the technical aspects, but they also need guidance on launching and marketing their show. They need a way to ask questions of others going through the same challenges! They need someone who's been there and done it to help guide them through the whole process.
That's why I created Flash Briefing Formula, to help aspiring people like you learn from my successes - and failures - about getting my own flash briefing off the ground.
Flash Briefing Formula gives you everything you need to start your own flash briefing successfully, including technical help, a marketing plan that works, and access to a community of other "briefcasters" ready and willing to share their advice with you.
A little more info about me?
Sure thing...
My "day job" is a Sport & Exercise Physician and Clinical Assistant Professor. I am also a licensed high school science teacher, and I LOVE teaching and using technology whenever possible!
With Flash Briefing Formula I have the privilege of sharing my love of technology, and specifically Amazon Alexa Flash Briefings, and help break them down into very simple, teachable components for everyone! And that means you!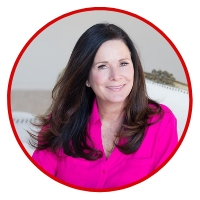 "Teri has knocked it out of the park..."
- Jen Jehner, President, Jen Lehner Media LLC
"I teach people how to create online courses and I have to say, Teri has knocked it out of the park with this course. The lessons are short and actionable. Vey step-by-step and clear. Someone with very little technical skills can take this course and create an Alexa flash briefing with no trouble whatsoever. As an added bonus, the course is beautifully designed. Highly recommend!"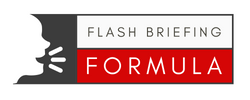 COURSE INFORMATION
HERE'S WHAT'S INCLUDED WITH FLASH BRIEFING FORMULA
Flash Briefing Formula was built with the aspiring "briefcaster" in mind. If you're a first-timer and you're looking for help with each step along the way, this is the course for you.

Work at your own pace. There are nine distinct modules with approximately 50 videos, taking you from idea to post-launch success.
Clear action items set you up for success, teaching you how to acquire the right gear, leverage your current audience, and build a flash briefing workflow.
Bonuses help you maximize your results, including a special lesson on graphic editing tips and tricks, AND a bonus module on how to turn your flash briefing into a podcast as well.
Gain exclusive access to a Facebook community to get access to Teri, and discuss coursework and trade ideas with your fellow classmates.

WHAT YOU'LL LEARN
HOW TO LAUNCH, MARKET, AND MAINTAIN A SUCCESSFUL FLASH BRIEFING
Across nine distinct course stages, you'll learn all about:
The how and why of flash briefings: You'll gain a deep perspective on how and why a flash briefing works for both you and your listeners - from understanding what drives you to create an amazing flash briefing to taking advantage of the powerful ways in which your audience can become hooked on your content.
Mastering the technical stuff: I'll help you with all the technical setup and know-how required to hit the airwaves like a professional, including an in-depth understanding of flash briefing equipment, voice recording, audio editing, hosting, testing, and publishing.
Setting up your Alexa Flash Briefing skill and more: I'll teach you how to get your show published, including finding a website or blog for your briefcast, submitting your show to Amazon, and creating transcriptions of your episodes.
Launching your flash briefing with an unforgettable bang: Learn how to effectively promote and market your launch on social media to draw in listeners when your show launches, and maintain your flash briefing brilliance for years to come.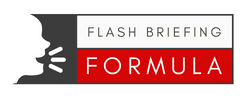 WHO IS THIS COURSE FOR?
ENTREPRENEURS, NON-PROFITS, AND ENTHUSIASTS WITH SOMETHING TO SAY
Flash Briefing Formula is designed for people looking to build their brand, share their enthusiasm, and better connect with their audience through flash briefings.
You're always looking to connect with others in a way that makes a difference. Your flash briefing idea has been waiting in the wings, and now you're going to make it a reality. You're not only building a brand - you're building a brand with a point of view. I'm excited to help you create a platform for that point of view with Flash Briefing Formula.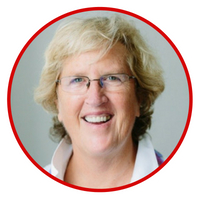 "This is a fantastic course..."
- Heidi Culbertson, Co-Founder and CEO, Marvee
"Highly recommend! This is a fantastic course that walks thru every detail & nuance of launching a flash briefing. Teri, you're a marvellous teacher, hitting all the right notes to help folks be successful with VoiceFirst!"


FLASH BRIEFINGS DON'T HAVE TO BE HARD
Stop thinking about starting a show and get started today. Flash Briefing Formula will hold your hand through all the hard parts, including setting up your studio, learning how to edit, and getting your flash briefing out into the world.
Course Curriculum
Welcome to Flash Briefing Formula
Available in days
days after you enroll
MODULE 2 - Planning your Flash Briefing
Available in days
days after you enroll
Frequently Asked Questions
When does the course start and finish?
The course starts now! Once you have enrolled, you have ongoing access. The course is self-paced and you may take as long as you need to complete it.
How long do I have access to the course?
How does lifetime access sound? After enrolling, you have unlimited access to this course for as long as you like - across any and all devices you own.
I live in a country other than Canada. Will this course be applicable to me?
Absolutely! This course will help you launch your flash briefing, regardless of which country you live in. In fact, I will specifically show you how to get your flash briefing into multiple countries to maximize your reach to your audience.
What equipment/tools will I need to complete the course?
At the beginning of the course, you will only need a computer and an email account. We will walk you through your options for recording equipment, microphones, and editing software.
How long is the course?
Plan to take about one month to complete the course. There are approximately 50 videos. Most videos are 5–10 minutes long, with the shortest video around 1 minute and the longest about 24 minutes.
What do I do if I need help?
Why is this course free?
It's simple. I originally was charging hundreds of dollars for this course, but I realized that both you and I would get more value out of making this course my gift to you. You get access to the most comprehensive flash briefing course available and I get to share my knowledge with you and become a leading educator/speaker in this space. That's the honest truth. I just ask that you share the course with others, and please provide me with credit where appropriate. That's it!
Can I get get some personalized help for my particular flash briefing?
Absolutely! I do have some limited hours available to work one-on-one with students that request the help. Feel free to contact me at
[email protected]
for information about personalized consultations. We can setup a quick 1-time call to discuss your ideas, all the way up to a complete personalized, strategic, flash briefing idea generation, development and marketing plan.
"I love the Flash Briefing Course!"
- Florian Hollandt, Product Manager, Jovo
"I love the Flash Briefing course! Teri, you are a great instructor and super competent in this field. I feel the urge to tell you how amazing your course is every couple of lessons or so. Really amazing! Greatly recommended!"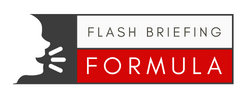 START YOUR FLASH BRIEFING NOW
My Flash Briefing has changed my business - and I know it can change yours, too. It's an incredible way to build a relationship with your audience.
My Flash Briefing Formula course walks you through the entire process of starting and succeeding with your flash briefing. Along the way, you'll be supported by me, as well as by your peers, in the exclusive Flash Briefing Formula community.
Join today and see just how much a great flash briefing can do for your brand.